PICCININI
IDEAL THINKS HE THOU ALONE ARE TRUE

---
Father
because Intensely
Son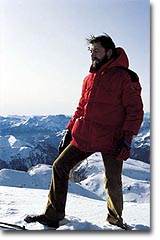 Sunday, May 23rd, with a group of friends on Mount Cusna.
The night of May 26th a car accident claimed the life of Enzo Piccinini, a very dear friend, well-respected surgeon, and one of the main leaders of the Movement.
He is survived by his wife Fiorisa and children Chiara, Maria, Pietro, and Annarita.
As soon as he heard the news, Father Giussani sent the following message to all the CL communities in Italy and throughout the world

While returning to Modena after a day working as a highly esteemed surgeon and coming to Milan for a meeting of CLU leaders, Enzo, we don't know how, ran off the road and was killed in a terrible accident.
Deeply grieved, I ask every CL community in Italy and in the world to join together to say a Mass to pray to God to allow us to inherit his same faith.
This is certainly the greatest grief that God has sent as a trial for all of our Fraternity at this time, because Enzo was a man who, from the moment of intuition he had in a dialogue with me 30 years ago, said his "Yes" to Christ with an astounding devotion, intelligent and total in outlook, and dedicated his life completely to Christ and his Church. The most impressive thing to me is that his commitment to Christ was so all-encompassing that no day passed when he did not seek in every way the human glory of Jesus Christ.
What does the mystery of God ask of us in a trial like this of great suffering? It asks us to remember always Christ as the meaning of life, at all levels and in all fields: "Christ is all in everyone."
Thus it becomes clearer to us, as time passes, that salvation, that is, the positive affirmation of being, always involves as a condition the cross: Ave crux spes unica.
We pray to the Virgin, who long before us went through a similar trial, that his wife Fiorisa and children Chiara, Pietro, Maria, and Annarita be as true as he was.
Our friend Alberto, returning from America with the joy of reporting to everyone the depth of our charism, witnessed also by the most recent great assembly at the UN, as he got off the plane received the first phone call, from Widmer, announcing to him the very sad news, and his response to the contradiction inherent in the history of all men was: "Cross and Resurrection." Grief would not be reasonable, if it were not redeemed in the affirmation of Christ.
This, my friends, remains in any case the contradiction which nothing in the world can resolve. Only in faith in Christ is there the possibility for the peace and joy which the mystery of His Resurrection gives us in Him. Thus we ask also Enzo to help us remember all of this, before the world assails our heart and destroys in it all positiveness and thus all hope.
I write to you as to friends.
Father Giussani
Milan, May 26, 1999
---
Promise and Certainty

The homily delivered by the Archbishop of Bologna in the Basilica of San Petronio in Bologna, during the funeral

BY GIACOMO BIFFI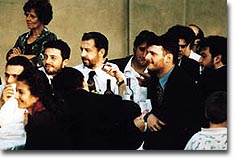 At a wedding.
"My soul is troubled." (Jn. 12:27) These are Jesus' words at the thought of the tremendous "hour" that very soon would conclude His adventure on earth. These are words we too feel as our own in this painful, unexpected hour we are living at this moment. Faced with the mystery of death, it is never possible-for us, poor creatures, thrown into the enigma of existence-to overcome our dismay. And it was not possible even for the Son of God. In the face of every death, the awareness of how tormented and impenetrable our destiny as human beings is becomes increasingly poignant. We are creatures desiring joy, peace, and life but instead we are called fatally to suffering, anxiety, and the end that appears to overwhelm everything. Above all, we are dismayed here in front of this very dear brother of ours, snatched away suddenly by a pitiless fate that in one blow cut off a precious and intense life, snuffing out in an instant a patrimony of extraordinary humanity, spiritual richness, unreserved giving, plans, and high purpose. My soul too is troubled and suffers for the loss of a friend: the friend of days of rest and serenity and of days of work and commitment, of days animated and comforted by our shared ideal of active witness to Christ and belonging to the same Church, and of days intent on and directed toward the best possible service to the Kingdom of God mysteriously present in history. The souls of all of us are troubled, and we spontaneously want to demand of the Lord-who nonetheless has told us that He wants to come sometimes like a thief in the night-an account of this death that we experience as a theft, a robbery that has ripped into lasting and profound affections, that has plunged many of us into a grief that won't go away. It thus becomes natural and instinctive to ask, "Why?" We ask even if we already know that this is a question that has no humanly persuasive answer. In moments like these, we ask of the word of God, the prayers, the redeeming sacrifice that we are about to renew, only a little brighter light and a little comfort. We beg Him to give to Fiorisa, their children, and all their family the grace to suffer without losing their way, and to take up again with courage, in memory of Enzo and with his example before them, their path through life. We beg that this celebration will reawaken in all of us the reasons for the only hope that cannot be disappointed. In all of us: in Father Giussani, who found and recognized in Enzo an intelligent interpreter and a passionate propagator of his strong and original proposal to adhere to Christ Jesus, the only plausible and supreme sense of all our experience; in the Fraternity and the entire Communion and Liberation Movement, which now grieves and feels the loss of one of its most effective leaders; in all those who have had occasion to appreciate Enzo's professional gifts and spirit of dedication as a doctor and surgeon. We do not ask to understand, because there are some painful obscurities that no one is capable of enlightening as long as we are here below. However, from the word of God that was proclaimed in this service, from the prayer that we lift up to God in this temple, from the sacrifice of Christ that is presented to us once again here-that is, the immolation of the Son of God who was not spared and who too submitted to the jaws of grief and the law of death-we draw a message of final victory, an announcement of resurrection, a promise of eternal life that changes everything and that no tragedy can render vain or alter. We have heard this also from the words of St. Paul: "We know that God, who raised the Lord Jesus to life, will also raise us up with Jesus and take us, together with you, into His presence. You see, everything is for your benefit, so, to the glory of God, thanksgiving may also overflow among more and more people." (2Cor. 4:14-15) Only this message, this announcement, this promise is able to give some relief to those who are weeping today; and faced with this trial we ask to be given a supplement of true peace and inner strength. Something Jesus said has given us a glimpse of the logic of our God-who is the Father of the One crucified on Golgotha-and thus helps us to look ahead with a trusting heart and an eye made more serene: "Unless a wheat grain falls into the earth and dies, it remains only a single grain; but if it dies, it yields a rich harvest." (Jn. 12:24) God knows the roads that bring the life of his own to a more ample and decisive fertility and transform our pains into redeeming energy for the benefit of all our brothers. Persuaded of this, the apostle Paul can daringly write, "It makes me happy to be suffering for you now, and in my own body to make up all the hardships that still have to be undergone by Christ for the sake of his body, the Church." (Col. 1:24) Today we lay into this Emilian earth the mortal body of our friend Enzo. We lay him there as a seed, that is, as a promise and a certainty of invigorated and expanding vitality for the groups of Communion and Liberation, for all this people of ours, for the entire human family.
---
An eternal friendship

Twenty-five years of shared history. Following Father Giussani and sharing all of existence. "Life's burdens were many, but he was always out front, never pushing from behind."

BY GIANCARLO CESANA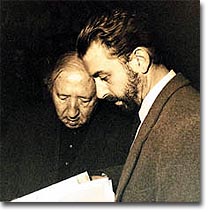 With Father Giussani at the commemoration of His Excellency Bishop Manfredini
Enzo. I met him for the first time more than 25 years ago. I don't remember what he said to me. However, I do remember the tone. I was already one of the leaders on the national level of CL in the university, he was the head of the burgeoning university group in Modena. He had his own ideas, he didn't ask for advice, he suggested how things were to be done. I remember it as though it were today; he was a hardhead. Then I didn't see him again; probably he was caught up in the hundreds of initiatives of the community of Reggio Emilia (and there really were hundreds). I saw him a few years later. I had been invited to Bologna, where one of the largest university communities of Communion and Liberation was situated. The community there was somewhat blocked by cultural problems, in the sense that they had an enormous inferiority complex toward modernity, and Marxist modernity in particular. My audience was not large. For this reason, remembering that hardhead who, I had heard, had started working in Bologna, I looked him up and invited him to participate in the group of leaders. He resisted a bit. The "Cattolici Popolari," the CL members and others who were involved in university politics, had written a flyer against him for a matter concerning surgery examinations. He told me about how he had spoken against them in public and that it was very hard for him to take part in the CL university diakonia. But he came. He always sat in the back. At the end of assemblies that were rather difficult, I would ask him to contribute. I would put what he had said in the best light and bring things to a conclusion, but without success. We would leave together and at the last bar in the Strada Maggiore we would stop for a drink , then we would go our separate ways-I remember the fog-I toward Milan, he to Modena or Reggio, where the night had just begun. No one would invite us to dinner, both out of immaturity and because evidently it wasn't the right thing to do. He had a Peugeot Diesel, the model with the smallest engine, the most economical, with which he was already racking up the millions of miles that he would travel after that. Then, unexpectedly, friendship bloomed, through the intervention of Giandomenica from Ravenna and a dinner in Elena Ugolini's apartment. I proposed a change of command, that the leader of the university community in Bologna be Enzo Piccinini. Father Giussani willingly accepted the idea. This was the beginning of a wonderful period that is still ongoing. I got to know Enzo. He had fantastic gifts, which I was lacking: impetuousness, immediacy, physical strength. I became enthusiastic about him and the group in Bologna. One time he phoned me: there was an earthquake in Irpinia, and he was already en route with boxes of medicine in his car, his medical bag, and I don't know what else. He was present. He had a fixation, which was the "grass roots," the people. I remember the Meeting in Rimini when the Pope came. Participation was truly enormous, in and especially outside the main hall, with people piled up everywhere. Enzo wanted to be where the people were. I was with the leaders. I remember him in line at the cafeteria while I went to the restaurant with the VIP (in a manner of speaking!). He mouthed the words to me, "I'm with the grass roots." He was a true leader, wherever he went he "pulled after him" thousands of kids, a sign that what he told them was not only exciting but was convincing. We talked about everything. We saw each other practically every week or even more often for twenty years, in Milan or Bologna. Here, he was a fantastic guest: he liked to eat well and he never let me pay, not even once. He would phone me every other day, often after midnight: "How are things?" Right off, I didn't know what to say to him, because according to me things were going about how they had been the day before, but then we would start talking: there was, there is, always something that was or was not going well. What always impressed me about Enzo was his desire to compare things, to measure himself against others. He had magnificent personal qualities, but he wanted to be corrected. This is a sign of belonging, of service to Another. We would discuss things between us, sometimes pretty harshly, because we were certain of a paternal authority (Father Giussani), so that it was clear, very clear, that the last word was not ours. Without the personal, intense relationship with Father Giussani, Piccinini, his life, cannot be understood. In any case this is how he was understood by the university students who heard his witness at the last Exercises [reprinted in the booklet enclosed with this issue of Traces]. He "pulled" others after him-.this was one of his favorite verbs. Life's burdens were many, but he was always out front, never "pushing" from behind. He was a friend and only God knows how much. We were more or less the same age, our children were in college, we were more or less embarrassed at being leaders. For these reasons, for our age and history, no other claims, we felt like fathers of these university kids. It couldn't be a game. We talked to each other about the family, about work, about the Movement, which wasn't something external, but internal. The problem was not doing, but being. How many people who weren't "one of us" were crying at his funeral! Enzo was a meeting point for everyone: patients, professors, ordinary people, Americans, French, English and who knows who else. A total devotion, as Father Giussani said, not only and not so much as commitment, but as mental outlook and intelligence. Every once in a while we would see each other alone, for lunch or dinner, to compare notes about life, not in definitive terms (that would have been wrong; our sense of authority was clear!), but to clarify things. The last time, we met in Piacenza. We went to a restaurant where the owner was a fan of Enzo. We ate two pasta dishes typical of the area and drank some grappa, talking about "us," taking in everything. Then we left, each his own assigned way. Later we saw each other again together with the others, always discussing and understanding. Now Enzo, as usual, has gone ahead, far ahead. And I continue to run, waiting.
---
The Ripe Grain and the Little Seed

Anne Vercours' experience in The Tidings Brought to Mary illuminates the great and painful events that have struck the whole Movement. And again today, it is the father who indicates the point where we should look

BY LAURA CIONI
During the night of May 25th, Alberto, Giancarlo, and Giorgio were returning to Italy after the presentation of the second volume of the "PerCorso" at the UN. Another return occurred that same night; a very painful one: Enzo's return on the Autostrada del Sole, on his way home, his destiny fulfilled. It is like a great field of waving ripe wheat and the little seed that only God sees dying in the furrow in the earth.
"Praise your God, blessed earth, in tears and darkness! The fruit is man's, but the flower is God's and the good smell of all sprouting things."
The fruit is the glorious affirmation, also in the sight of man, of a long life of love for Christ, and the flower is plucked by the force of a Mystery that leads everything toward its true home.
Thus, once again, our Fraternity discovers itself more united, more certain of some few great things, in exultation for a success and in sympathy for a great grief.
At times, the poet's voice echoes or prophesies the inexorability of the events by which the Mystery slowly reveals itself to our waiting eyes.
In Claudel's The Tidings Brought to Mary, Anne Vercours returns unexpectedly from the Holy Land to her home in Combernon and finds Violaine dead and Jacques wounded by a grief that he doesn't know how to bear, and Pierre de Craon in the splendor of the embrace of his vocation. The father looks at everything his earth has produced, in the joy that precedes the long months of winter: "O truly blessed site! O Bosom of the Fatherland! O grateful and impregnated earth! The carts that pass along the road leave straw clinging to the branches laden with fruit."
How many times have we exulted and been thankful for the fruits of new humanity in our Fraternity? This is the announcement of good news and the hope for a new coming together of the human family and the Church, just as when the sacrifice of the Maid of Orleans restores the King and the Pope to the fatherland, and the universe and the Jubilee is proclaimed.
Anne relives the bygone days of her daughter's beauty: "I have not lost you, Violaine! You are beautiful, my little one! Beautiful as the betrothed on her wedding day when she shows herself to her father in her magnificent dress, with delicious confusion. Go on ahead, Violaine, my child; I will follow you."
How many times have we recalled our college days with these and other friends? Now look, the first of us has gone on ahead. "Blessed be death, in which all the demands of the Father are accomplished." Once again it is the father who indicates the point where we should look, in acceptance of a peace that has been bestowed. That father who says to God, "Have pity on man, Lord, in the moment when, his task finished, he stands before you like a child whose hands are being inspected. My hands are clean. Up to now there was someone with me. Now, my wife and my daughter gone, I am alone to say grace in front of a table that has been cleared. They are dead, but I am living on the threshold of death and an inexplicable joy is in me."
He who today repeats us with his life, what the poet's words suggest, may find us truly children, just as Enzo was and is truly a son.
---
The Catholicity of his Experience
(and the Ecumenism of his Acts)



We publish here some of the many messages sent to Enzo's family and to Father Giussani, all expressing gratitude for the true fraternity he demonstrated

This letter is from one of Enzo's sisters (first from the left in the photo of Enzo with his mother and brothers and sisters), who is a Trappist nun in Venezuela




Dear friends, I am writing to you because I knew you as those closest to Enzo's responsibilities in Bologna. My grief is immense, and I have no words for it except a heart washed with the tears of an unending love. His death is a paradigm of his life: total consummation. To our eyes nothing, to God everything. The loneliness he leaves in my and your heart cannot be filled, because Enzo is irreplaceable. We can say thanks, we can thank him for what he gave us, for what of him belongs to us, gratuitously. Maybe in this way we'll know how, we will be able to take up the heritage he left us, as Fr. Giussani asks us to. In the Body that was given, the Blood that was shed, I embrace you profoundly.




Sister Chiara




"We have had the experience of a liberation, but from where does this liberation draw its roots? The source of freedom has made us more aware, more certain, more grateful for the evidence of this fact: we are Another's, we belong to Another, to the mystery of Christ." (from the meeting of CL university students-CLU équipe '99.) Infinitely grateful to the Lord for having given us Enzo as a father and teacher we beg Him to fill the void that we feel in our hearts, making our faces the lucid evidence of his mysterious love. In communion,




Students of the Politechnic University in Milan




Dear Father Giussani, I feel the need to share, with you and through you with all our friends, in the grief at Enzo's death. His enthusiasm for Jesus Christ and the indefatigable friendship of which he was capable have been, also for me, a precious gift and an invaluable witness. Your message at his death needs no other words. Through Enzo's definitive participation in the "work" of Our Lord, may that to which you have called us be ever more fulfilled in my and in our lives! I embrace you,




His Excellency Bishop Angelo Scola, Pontificia Università Lateranense




Having heard the news of the tragic accident that caused the death of your beloved friend and collaborator Enzo Piccinini, we join his family, you, and the Communion and Liberation Movement in prayer.




His Eminence Cardinal Francis Stafford, His Excellency Bishop Stanislaw Rylko, Dr. Guzman Carriquiry. Pontifical Council for the Laity




Dear friends, In this particular moment, I wish to express my paternal and pastoral affection to you with renewed intensity. Dr. Enzo Piccinini, whom I had the joy of knowing only recently here in Pesaro, has been borne to Heaven: he has made the crossing in his little human boat and has reached "the other side," the side of Life in all its fullness, of the Day that has no end. The Lord of life has visited him, his family, and the Movement that he loved and served with enthusiasm and conviction. But He also visited, we can say, our Diocese, which has still in its heart the passionate witness of Enzo Piccinini's humanity and faith. The experience of pain that he spoke about now resounds as a mysterious preparation for his definitive meeting with Jesus, and for us as a viaticum for continuing our pilgrimage toward the Father's house. Every visit from the Lord is for life. This is the faith that comes down from the glorious cross. It falls now to you, to all of us, to accept this visit as Mary welcomed the Angel who announced the Mystery to her. We shall all come out of God's visit confirmed and improved. Enzo, from Heaven, continues to walk with his family and with us in the most intense communion of reciprocal prayer. Let us take unto ourselves the shining words of St. Jerome: "I thank you, O God, for having had him; rather, for having him still, because whoever returns to the Lord does not leave home." To all, I renew my expressions of esteem and I bless you with all my heart.




His Excellency Angelo Bagnasco, Bishop of Pesaro




Dear friends, I beg you to pass on to the family of Enzo Piccinini my sympathy for this great and sudden grief. I will celebrate a Mass for him, that he may see the Lord whom he served with unswerving devotion, giving himself to the task of building the charism. Looking at Enzo, it is easy to see what it means to "give one's life for the work of Another." My prayers go to his family, you, and the friends who knew and were close to him.




His Excellency Filippo Santoro, Auxiliary Bishop of Rio de Janeiro




Dear Father Giussani, I want to extend to you my personal sympathy on the death of Enzo Piccinini. Your message teaches us to suffer together in unity among ourselves and with Mary, as an act of participation in the mystery of the cross and resurrection of Jesus Christ. Along with our shared grief, I wish also to express to you my congratulations for the great grace that Enzo was for you. It will no longer be possible during International meetings to look wonderingly at Enzo as a visible and evident form of obedience to and following of the charism and of the friendship with you. But his face and his presence remain alive in our memory. I always and unceasingly entrust you to the Blessed Virgin, that she may accompany you in the great human adventure to which the Lord has called you for all of us. What I am writing to you personally is written in the name of my friends and to all the Fraternity. With undying friendship and affection,




Fr. Pietro Tiboni, Kampala




Dear Father Giussani, I am writing to you because I have always shared with you my greatest joys and greatest sorrows. And Enzo's death is a great sorrow. Friendship with Enzo was a gift from you, and it is what helped me most of all to grow. His "yes," so determined and certain, helped me to say "yes" wherever I was, as he did. I shared with him the responsibility for following communities and individuals, and what convinced me, being with Enzo these last three years, was seeing the change in him, his improvement as a person, unconcerned and proud of what had been, because what mattered was what was to come. We were supposed to meet tomorrow evening for dinner with Cesana, who was coming to Pesaro to present your book Generare tracce. Yesterday evening in Pesaro we remembered Enzo with a Holy Mass. There were more than 800 people present, including patients whom he treated and followed even here, doctors, heads of staff-all of whom respected him highly. We read your message, which gave us the certainty that it is God who leads, and we read a message from the Bishop, who even though he has been here only a few months already knew Enzo and had asked him to talk along with him at a public seminar just a few days ago. I heard the news of Enzo's death Wednesday morning. I had gone to pick up my wife Mariella at the airport-she was coming back from New York, where she had been to visit our daughter Francesca who is living there with Riro-and she was telling me about the presentation of your book at the UN, and Giancarlo, Alberto, and Vitta's joyous comments…. Only the thought that God leads His people as He wills can console us for Enzo's death. My last thought is for you, who besides your grief at losing a friend, a son, also have the responsibility of guiding us. I like my work and you know this, but you also know that the Movement is what taught me to love it, and that the aim of my work is to build the Movement. Thus, please consider my life, my family, my work, my time at your disposal for the Movement and the Church. An affectionat embrace,




Marco Montagna, Pesaro




Dear friends in the Fraternity of CL, In this moment of deep sorrow, in the offering up of our dear friend Enzo, may we be accompanied by the prayer that the Lord grant us the same yearning for Christ's human Glory that he witnessed to us.




Giovanna Tagliabue and friends from CL in Paraguay




Dear Father Giussani, Please forgive me for not sending you a fax immediately after Enzo's death. But it took me a while to begin to absorb this fact. It has been in my thoughts these past three days. He stayed at our house in Buenos Aires for many days, then at my parents' house in La Plata. Your message about Enzo comforted me and all our friends in Argentina, who were deeply affected by his death. For me personally, it was the death I felt most after my grandfather's. I thought immediately of you and your grief (all my friends thought of you immediately, too), but your message teaches us to react as men of faith. Enzo led some meetings in Buenos Aires and La Plata last year and everyone remembers him. The doctors in charge of the medical school in La Plata, with whom he had made an agreement, because Enzo is someone who made people appreciate him also on a professional level. On his trip he went as far as Bolivia and Uruguay, meeting our friends through his work in remote places. He had a missionary impetus that challenges us, as you said, to remember the meaning of life. Christ is risen. I embrace you.




Martin, Buenos Aires




In this moment of deep grief we remember Enzo with great affection, whose presence among us in England has always been seen as a sign of faith, friendship, and passion for Christ. His smile always showed us the joy that comes from belonging to the Movement and faithfully following Father Giussani.




The community in England




Dear Father Giussani, I have just heard about Enzo's death and I am dismayed. My heartfelt sympathy goes to his family. I say in all truth that Enzo is part of my family, he is my family, because of the way I met him, of how I saw him live and speak, and of how he was consecrated to Christ, to you, to our friendship. And I share your grief because I know how much you love him. The Gospel for Monday said, "And Jesus, looking at him, loved him." And He said to him, "Leave everything and follow me." And Enzo followed Him. Here, ten minutes have passed since we got the news, and three people have phoned me from Italy to tell me, four from Argentina asking that we meet to pray for him. A chain has already been set up to notify everyone one by one, so that they can pray for him and for his family, and at the Movement's next Mass we will do so all together. I would like very much to participate in his funeral Mass, but it is impossible for me to get away right now. I wish, as a member of the family, to contribute also to their financial needs, and I have asked my sister to give you my contribution for them, so that you may use it in the best way. I embrace you, dear Father Giussani, in sorrow and in prayer.




Fr. Mario Peretti, Buenos Aires




The small community in Hong Kong shares vividly in the sorrow and dismay at this loss. Please send my most heartfelt condolences to the family and in particular a strong embrace to Chiara who was struck by this news when she was far from home. We don't know what to say but we are close to you.




Hermes, Hong Kong




Dearest Fiorisa, We stand aside to look silently at Jesus, who says to you, "Woman, do not weep!" His presence alone can console you in this temporary separation. Dearest Chiara, Pietro, Maria, and Annarita, in this trial may the Lord make you strong and free like your father and with His grace may He draw near to you in His love. Here in Spain we loved him as a friend and admired him as an exemplary companion because in him Christ has been made human. Your loving offering to the Father is joined by our affectionate prayer for each of you.




The CL community in Spain




Dearest Father Giussani, May the Holy Spirit grant you in fletu solatium. The image of Enzo going into his children's room at night lives forever in our memory. Your son in intelligent passion, daring, and offering of life, an unforgettable companion on the difficult path toward What the heart desired. His sacrifice unites us to Christ on the cross in a mysterious fecundity.




Your friends from Spain




Dearest Fiorisa, Chiara, Pietro, Maria, and Annarita, We wanted you to know that in these past days Holy Masses have been offered in New York, Washington, Boston, Chicago, Tampa, Houston, Minnesota, Los Angeles, San Francisco, Sacramento, and Denver to remember our very dear friend and "father" Enzo Piccinini. In all the Masses we read, and we continue to think about, Father Giussani's words. We say "father" because about 12 years ago Enzo came to stay with us and became friends with numerous people in our communities. Afterwards, Enzo's friends arrived from Bologna, and some of them stayed. They help us to keep alive Enzo's memory and paternity. Some of us remember when Enzo came to our national vacation in Rhode Island ten years ago. Enzo spoke of the fact that he rode around Boston on his bicycle looking at the city's skyscrapers and saying to himself, "Look, I am carrying inside me the answer to all this." At that point none of us understood the profundity of his judgment-that his belonging could give him a faith so concrete that he was able to affirm it even in the midst of the heart of the American "empire." But now, so many years later, we see how this affirmation has been given flesh in the experience of our lives and in the marvelous events that have happened here. We shall continue to pray, asking Enzo to help us live this belonging and this faith in Jesus Christ, which he lived with such certainty and joyfulness. We pray to the Blessed Virgin to help us, you and us too, to understand the mystery of the "Cross and Resurrection," as Alberto said, and please remember that we are with you in these days.




Your friends in the communities in the United States




Dear Father Giussani, What strikes us about Enzo is his love for life and the person in all its aspects and manifestations; this love which in him was always self-sacrifice. He was capable of staying up until all hours with his "kids," to set up a workshop or help a club into being; he was capable of organizing an informal soccer game (at any hour and in any weather) in order to see us and ask us, "What's new?" or to correct us in time with the vigor that always distinguished him; or again to take us up and down Italy to show us the places he loved. There was never a time that we met with Enzo, maybe even only to joke around or to watch a soccer game together, that we came away undisturbed: his presence was an unending challenge. To love what he loved, Christ as the meaning of life, to accept what he was is the only way we have to thank him. It is clear to us that he was the simplest road that God used to touch us and show us His human Glory. We feel entrusted with this enormous heritage and we ask Enzo to help us understand what he understood and to be meek in front of the ever-present Mystery. With deep affection,




The friends in the Bologna CLU diakonia

I am with you and your family in remembering Enzo, and remembering him as a man, a teacher, and a researcher. I would like to borrow an expression from Father Giussani's beautiful letter: a true person. True in his faith, in his commitment to the university, in his being a father and a man committed to doing good, true also when he flared up suddenly at the sight of injustice or superficial or vulgar behavior. He died just as he was about to achieve greater recognition in his work, but his was a full life, and this will help to comfort his wife, children, and the numerous friends who today accompany him and bid him farewell for the last time.




Fabio Roversi Monaco, Rector of the University of Bologna